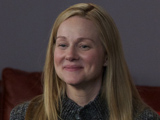 Finales are funny things.  Well, in the case of a half-hour comedy, one hopes there's something funny about them.  But by virtue of this being a finale, I had the chance, if not the pressure, to be a little more emotional – and go out big! 
We usually know a lot about the finale in the very beginning of our writer's season.  We try to find the end first so we know what we're working toward.  It's those middle episodes that can get really tricky. 
So early on, we knew that Cathy would run a marathon that her friend had been training for.  I was inspired by a story that our props person on the pilot told me about her friend who had melanoma and ran marathons right up 'til the end of his life.  I also wanted Cathy to do something noble in this final episode, although Paul seems to think it's pretty selfish (which provided good conflict between them).
We also knew early on that Paul would confront Daisy, the insurance employee he's been on the phone with all season.  In earlier episodes we worried that too many scenes with Paul on the phone would be boring but it was important to set up his ongoing frustration with the insurance company so we could pay it off here.  And the heart attack, well, nobody gets off scot-free in a show about mortality.  And I really liked re-emphasizing that truth we bring up a lot in this show: we are all dying.  Just because someone has cancer, it doesn't mean they're the next to go… they could live another fifty years while the seemingly healthy person next to them may not.  Hilarious, right?  Well, hopefully there were a few other things that made you laugh.
I also got hooked on the idea of Adam talking to Dr. Todd early on.  I loved bringing Dr. Todd back.  I loved that he was inspired by Cathy to propose to his best friend.  I loved showing how Adam had matured over the season and was showing signs of manhood, asking serious questions about his mom and foregoing an invitation to a party to be with her. 
Sean's story was very simple.  He's back.  He's unmedicated.  But he's working on staying sane and still and wants to be there for his sister.  He went through a lot this season, expecting a baby and then losing it.  He's looking for a fresh start.
The song at the end of the episode is Straight No Chaser's version of Auld Lang Syne.  I found it on iTunes early on while writing this episode and listened to it over and over.  
A lot of versions of that song were very maudlin and I loved this one's upbeat vibe.  I like how it plays against Paul's realization at the end – that he might be among the dead and not the living. 
The other thing I enjoyed about the end was seeing Marlene and Lee again.  I toyed many times with using them earlier in the story as well.  I love those actors and it would have been nice to see more of them.  But to have brought them in earlier would have lost the impact of seeing them at the end.  I love Marlene's smile.  I love the idea that our dead friends are around us, still connected to us. 
Again, hilarious, I know.  But it's the finale.  Cut me some slack.
Hope you enjoyed, and I hope I get the chance to write for you in season 3!
—
About the Writer
Darlene Hunt is originally from Louisville, Kentucky. She studied theater at Northwestern University outside of Chicago, the Royal National Theatre in London and the British American Drama Academy in Oxford. While in college she co-wrote a play aimed at high-school students entitled "No Problem" (Dramatic Publishing), which she toured across the country. As a comedian, Darlene has toured comedy clubs across the country and has been featured at the Chicago Comedy Festival and the U.S. Comedy Arts Festival in Aspen. She has performed as a member of the world-famous Groundlings Theatre in Los Angeles and has studied with Second City in Chicago.
Darlene starred with Sean Hayes (from TV's "Will & Grace") in "Platonically Incorrect", a play which she also wrote. It played in Los Angeles and New York and was later developed into a pilot by ABC. After writing nine more pilots for various networks, her show "The Big C" starring Laura Linney, premiered on Showtime in August of 2010.
Darlene co-starred with Ted Danson on ABC's "Help Me Help You" and on the big screen she played opposite Jude Law and Lily Tomlin in David O. Russell's film "I Heart Huckabee's." Other film credits include: "A Lot Like Love" with Ashton Kutcher, "Idiocracy", directed and written by Mike Judge, and "The Merry Gentleman" directed by Michael Keaton.  She has also been seen in numerous commercials and television shows most recently doing guest stars on Hung and Parks and Recreation.